Modelones Nail Strengthener Fortifiant Pour Ongles 15ml
One Bottle for Four Used Nail Strengthener: As daily protection and nail repair on natural nails for treating weak, damaged, cracked natural nails and then promoting nail growth. As a base coat before coloring nail polish and color gel. As a top coat, the nail surface will be full and shiny, which will make them look healthier. As a nail concealer, after applying, the nails will have a natural pink color.

Features:
New optimization and upgrade nail growth treatment: Upgraded quick-drying and non-greasy formula can make 1 min instant reinforcement, high gloss, easier to apply smoothly.
Formulated to be safe and free of harmful substances: 100% natural organic formula including Keratin and Jojoba oil which are supplement calcium and nutrients required by nails. 4-Free: Phthalate free Aceton free, Formaldehyde free, Fragrance free.
BUILT-IN BRUSH: Convenient brush cures your nail whenever you want.The brush with even and easy to apply on natural nails.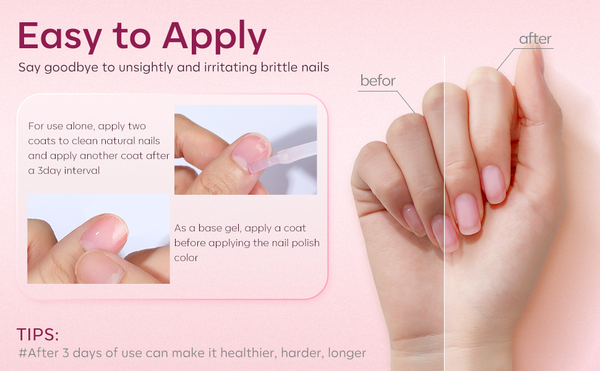 We thank you for choosing MODELONES. To express our gratitude, we introduce to you our exclusive offer:▪ SUPPORT AFTERPAY PAYMENT METHOD
Shop now. Pay later. | Always interest-free. Your purchase will be split into 4 payments, payable every 2 weeks
▪ 12% OFF FOR ALL NEW CUSTOMERS
Who doesn't enjoy getting discounts? Sign up and get 15% off your first order sitewide and get the latest and hottest scoop on our amazing offers
▪ EXCLUSIVE FREE GIFTS
Get a FREE GIFT for every order that meets the required amount
▪ VIP MEMBER BENEFITS
Exclusive MODELONES Prime Day Discount On The 5th of Every Month (Go to event page)
▪ FREE SHIPPING & WORLDWIDE SHIPPING
Free shipping for all orders $45+ USD
▪ 30 DAYS RETURN AND REFUND POLICY
If you are not satisfied with a product purchased from

https://modelones.com

, we will gladly accept a return within 30 days of receipt (excluded opened products).
Modelones is a nail art brand for all mani-artists who seek stylish nail design and self-expression. As an industry-leading producer of gel nail polish, Modelones team always runs at the forefront of nail fashion and innovates our formulas, aiming to inspire confidence and courage in mani-artists through the power of color.At Modelones, our professional team of designers explores the playful world of color, bringing high-standard dipping powder, poly gel, and acrylic powder into our collections to fulfill your own beauty attitude.In the end, we hope that Modelones becomes the destination for like-minded mani-artists to gather and connect, dispersing the energy of color into more people's life. The power of color will defeat the dullness of life. Break free and shine bright with Modelones!