Walk Out Space - Acrylic Powder (1 oz)#57
Features:
High Quality & Long Lasting: Formulated with high-quality upgraded chemicals, this Acrylic Powder can ensure color clarity and prevent yellowing or dulling. Generally, it can last for about 2-3 weeks even without nail lamp curing.
Easy to Apply: It is super easy to be applied and suitable for beginners and professionals.
Safety Ingredients: All of our products are in strict production compliance with SGS and MSDS standards which are free of harmful chemicals.
Warm Reminder:
*Please notice that acrylic powder will work differently when they work with different liquids.
*For guaranteed results, please use it together with our acrylic liquid and acrylic brush. If you are new to nail art, we recommend you buy our acrylic powder starter kit.
HOW TO USE
Step 1: Pick out the correct size and shape then apply a small amount of nail glue to the tip. File down the nail tip to the shape you would like.
Step 2: Apply acid-free nail primer to the entire nail bed.
Step 3: Pour your acrylic liquid into your dapper dish, then dip the acrylic brush into it. Dip the brush tip into the acrylic powder and stroke the brush through the powder toward you until you create a ball of acrylic.
Step 4: Apply the ball of acrylic to the top of the nail and bring the bead down to every tip. Sculpt the acrylic by pressing the brush flat to your nail and gently moving the acrylic to smooth out bumps and to spread it out evenly and wait for a little over 2 minutes for the acrylic to dry.
Step 5: File the entire nail until it is smooth on the top and around the edges to make the shape more defined.
Step 6: Apply top coat and cure it. Finish off the look by adding a stroke of cuticle oil.
If still have questions, please contact us.
Notes:
*Due to different monitor settings and electronic devices colors may differ slightly.
*Only used for nails. Avoid contact with eyes, mouth, and skin.
*Take a skin test every time before doing a manicure. Stop using immediately once feeling uncomfortable.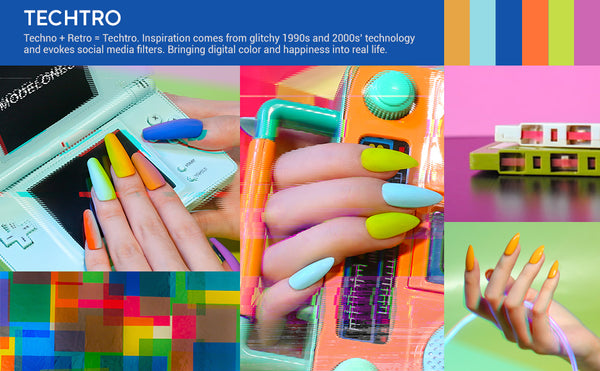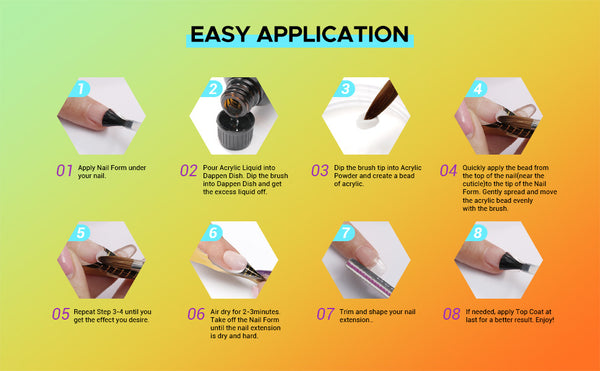 I mean, the picture is pretty self explanatory as to whether this glows in the dark or not
I cannot wait to use this on a Halloween set ??
Love love love this acrylic color. Used with Modelones monomer and the beads were great! Nice application as well. Would recommend.
I have never used acrylic powder before and I was told this brand is best for beginners. This acrylic powder is easy to work with. The jars are smaller than I expected, but they are still beginner-friendly. I highly recommend using it.
Great product! It's great to now have acrylic colors and options that we haven't had before. I like to use it the traditional way. Consistency allows you to perfectly sculpt your nails using a variety of shapes.
I am so glad I bought these, the powder is easy to use. This was the first thing I tried and they were perfect! ! ! ! You will not regret purchasing this product.
It's been 4 months since I had my nails done. I'm a beginner and these acrylic powders are like butter. They work well under gravity, you don't have to use a brush to make the acrylic flow to the tip, it will flow down naturally. By far the best acrylic I've bought at this price. good results. Absolutely recommend.
I wish the pictures were dark brown and the product package I received was the color I was expecting, no color! This is more true to color than any gel polish I've bought on other sites and it looks great! This is really a happy thing! I think I will buy it from here again when I need it again.
We thank you for choosing MODELONES. To express our gratitude, we introduce to you our exclusive offer:▪ SUPPORT AFTERPAY PAYMENT METHOD
Shop now. Pay later. | Always interest-free. Your purchase will be split into 4 payments, payable every 2 weeks
▪ 12% OFF FOR ALL NEW CUSTOMERS
Who doesn't enjoy getting discounts? Sign up and get 15% off your first order sitewide and get the latest and hottest scoop on our amazing offers
▪ EXCLUSIVE FREE GIFTS
Get a FREE GIFT for every order that meets the required amount
▪ VIP MEMBER BENEFITS
Exclusive MODELONES Prime Day Discount On The 5th of Every Month (Go to event page)
▪ FREE SHIPPING & WORLDWIDE SHIPPING
Free shipping for all orders $45+ USD
▪ 30 DAYS RETURN AND REFUND POLICY
If you are not satisfied with a product purchased from

https://modelones.com

, we will gladly accept a return within 30 days of receipt (excluded opened products).
Modelones is a nail art brand for all mani-artists who seek stylish nail design and self-expression. As an industry-leading producer of gel nail polish, Modelones team always runs at the forefront of nail fashion and innovates our formulas, aiming to inspire confidence and courage in mani-artists through the power of color.At Modelones, our professional team of designers explores the playful world of color, bringing high-standard dipping powder, poly gel, and acrylic powder into our collections to fulfill your own beauty attitude.In the end, we hope that Modelones becomes the destination for like-minded mani-artists to gather and connect, dispersing the energy of color into more people's life. The power of color will defeat the dullness of life. Break free and shine bright with Modelones!