Macaron Paradise - 4Pcs 21 Colors Vinyl Record Solid Cream Gel Polish Color Cube Kit
customers are viewing this product
 This 4Pcs 21 Colors Vinyl Record Solid Cream Gel Polish Color Cube Kit expresses your creativity. Each glossy gel polish cube has 21 stunning colors perfectly designed to offer excellent coverage and lasting wear. Enjoy salon-quality results at home, perfect for all your nail art needs!
What's included:
- Macaron Paradise - 21 Colors Vinyl Record Solid Cream Gel Polish *1
- Top&Base Coat Set *1
- 8W Mini Finger LED/UV Nail Meow Lamp *1

Warning:
*External use only / Avoid contact with eyes and mouth.
*Keep away from heat or flame / Keep out of reach of children.
*Not suitable for pregnancy and sensitive skin / Avoid prolonged contact with skin.
*Stop using the product if any redness or allergic reactions occur.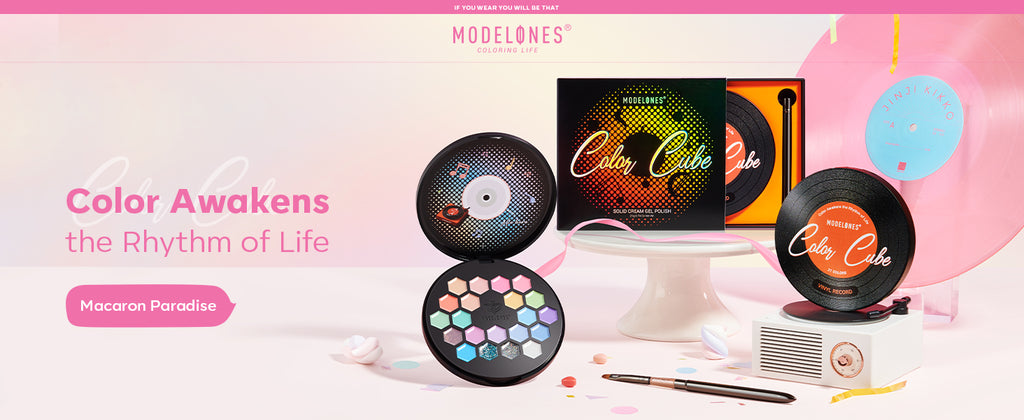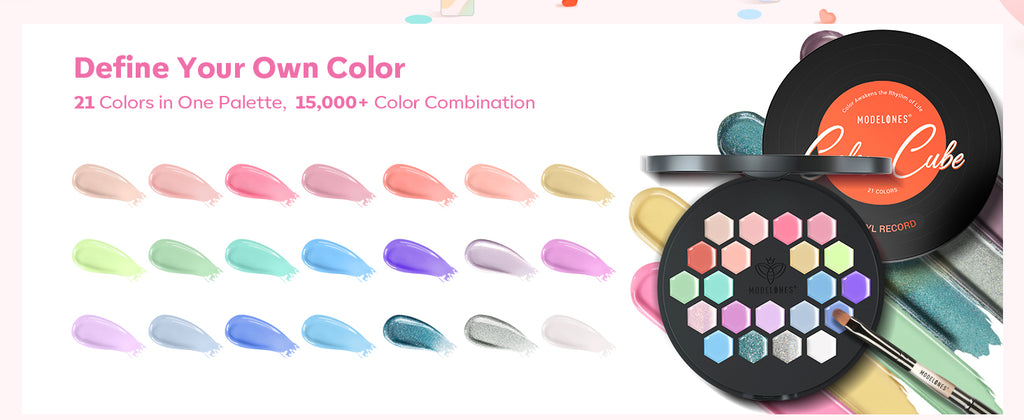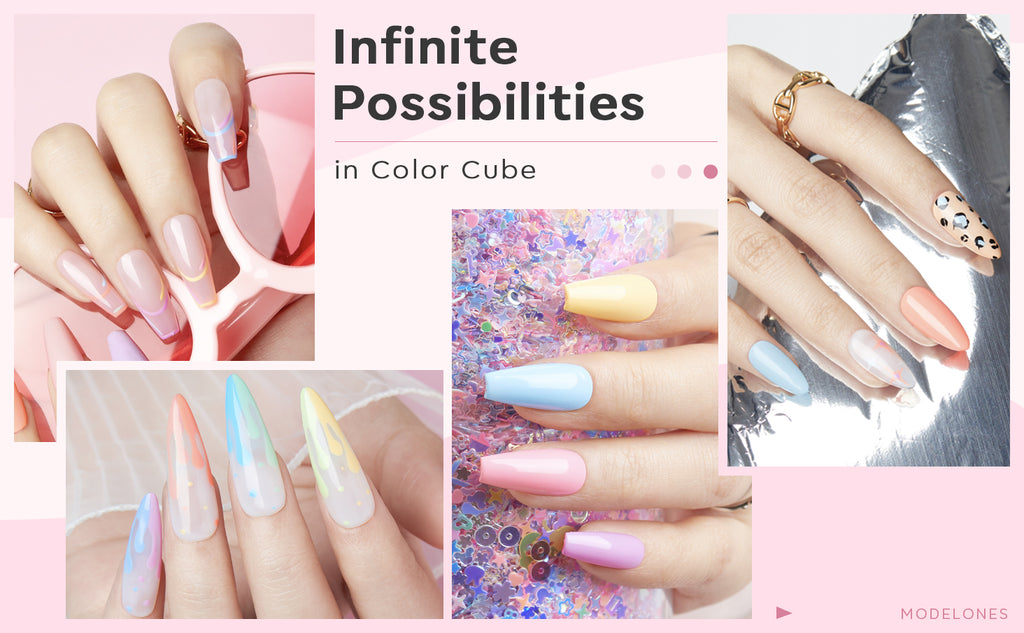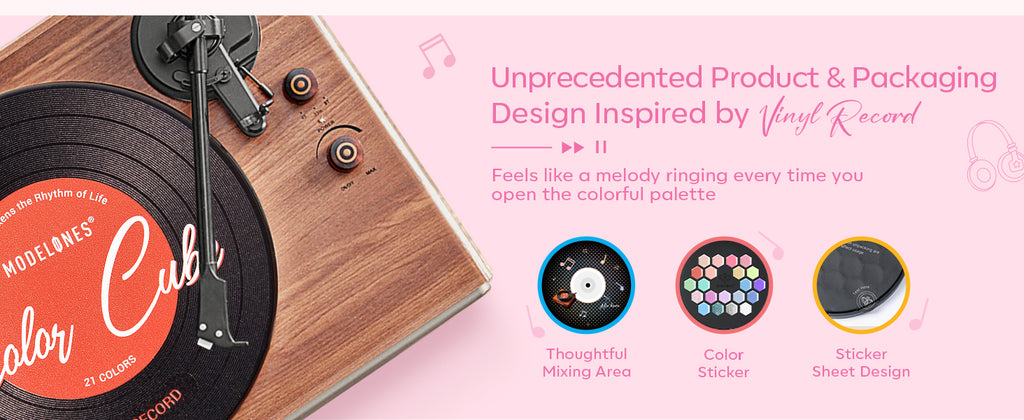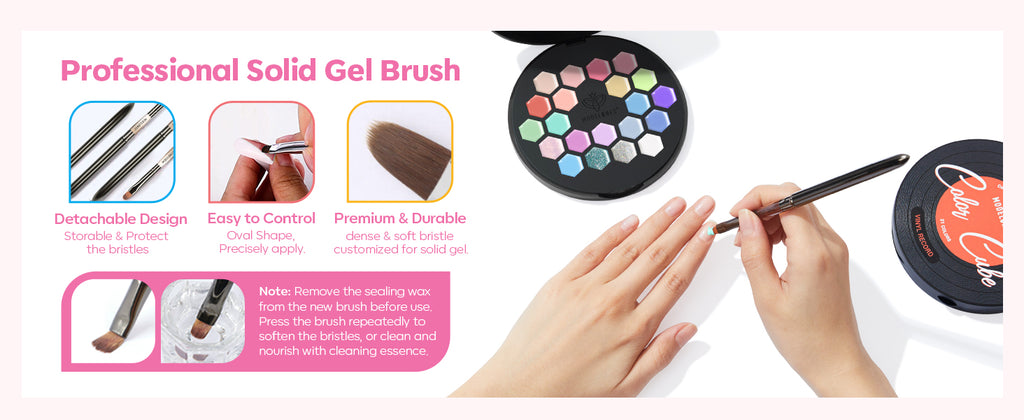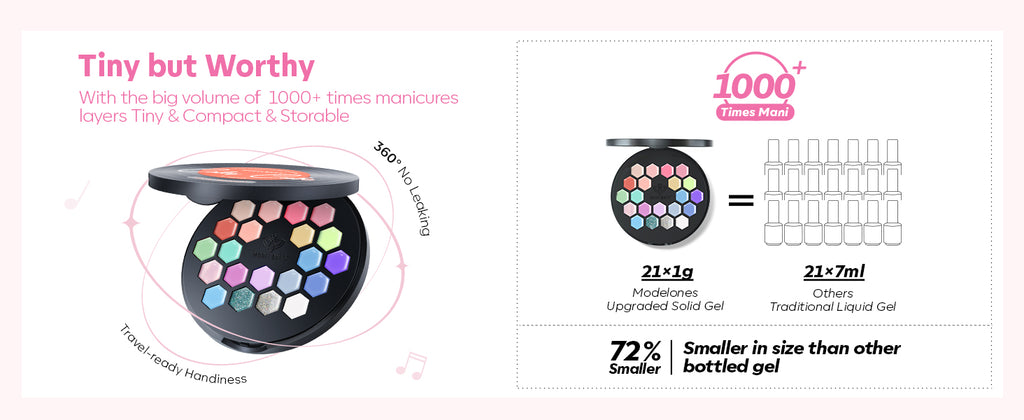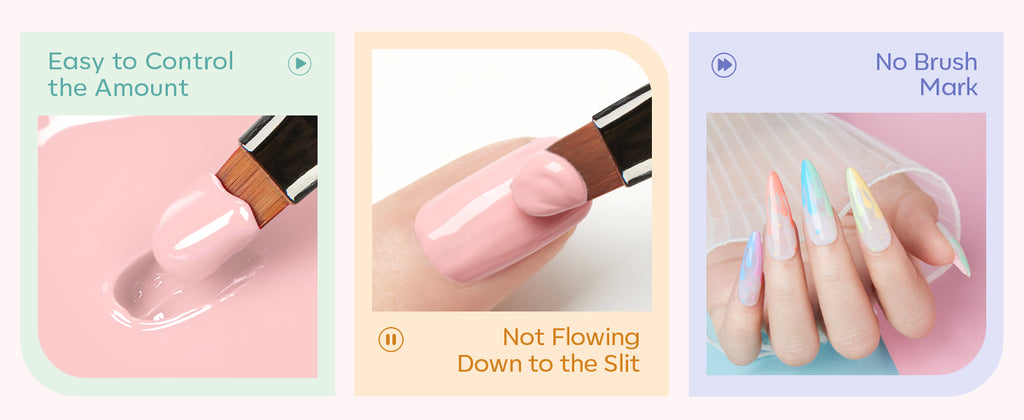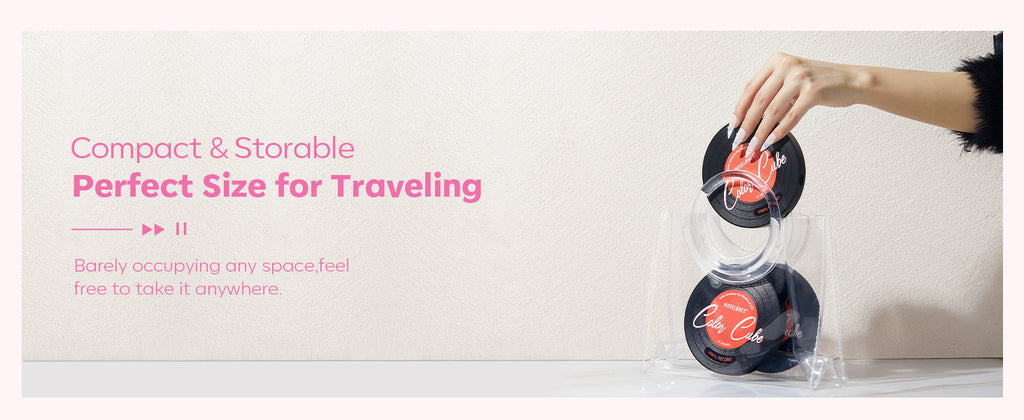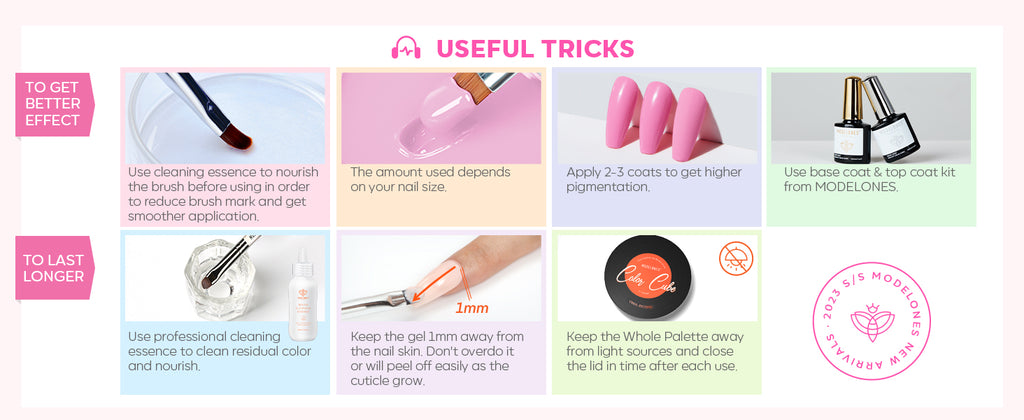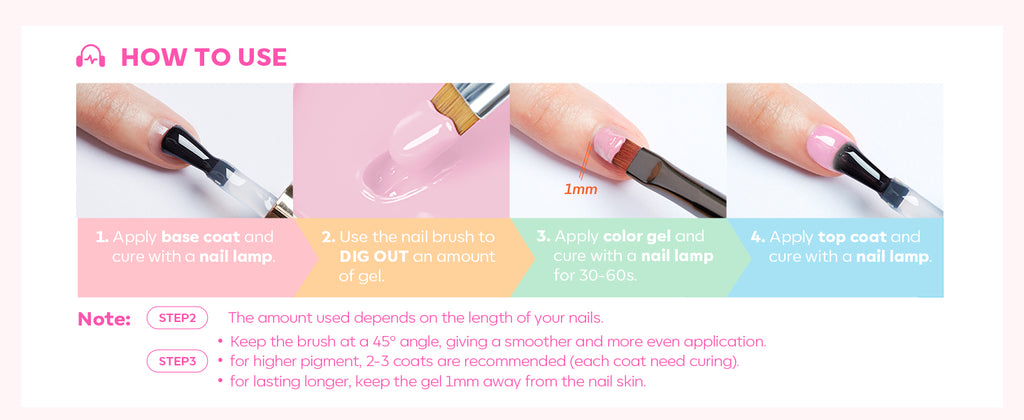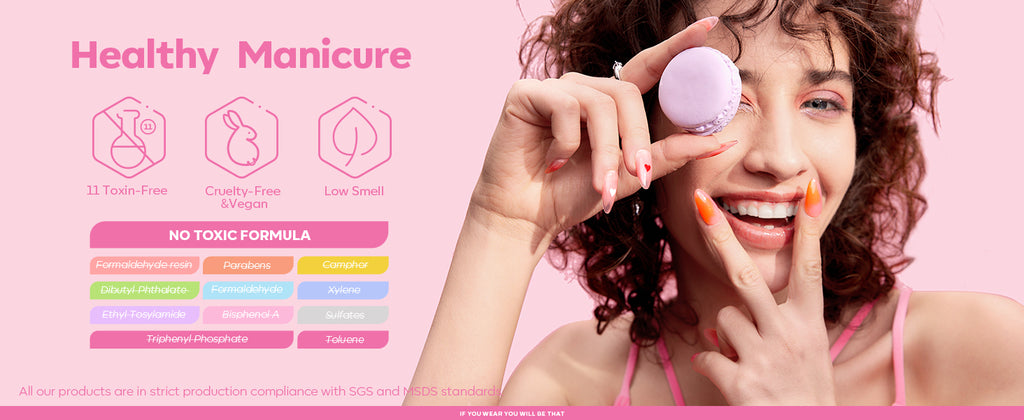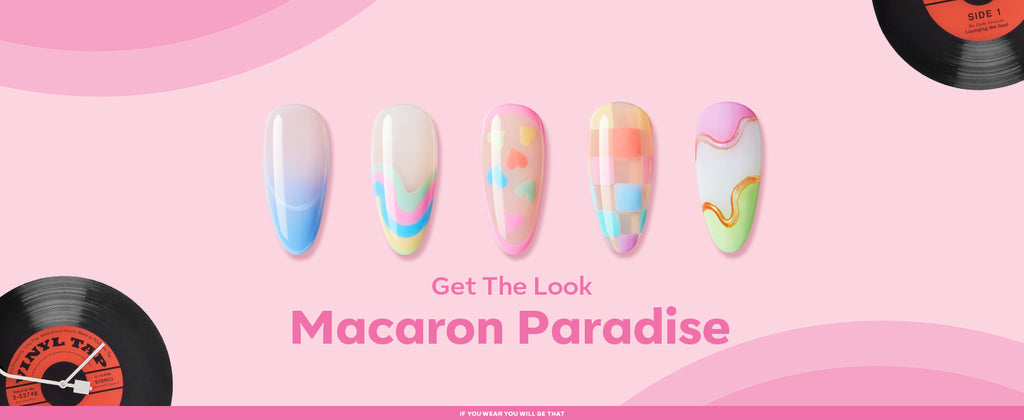 Warning:
*External use only / Avoid contact with eyes and mouth.
*Keep away from heat or flame / Keep out of reach of children.
*Not suitable for pregnancy and sensitive skin / Avoid prolonged contact with skin.
*Stop using the product if any redness or allergic reactions occur.
Really beautiful!
Creamy, opaque and easy to apply, plus super durable!
3 week mani in the picture, only using this cube.
Great colours, fun & experimental
Macaron Paradise has the perfect array of pastel shades that blend onto a smooth textured nail very nice, and will adhere to tips similarly well when properly treated (buff & base coat makes them shine as they should). Colours pair well side by side, and many blend together to make nice subtle alterations. The mixing palette space works as intended and is easy to clean. Brush is strong and smooth enough to get a good scoop & even coverage, but xtra brushes of different sizes help a lot for others who might like to paint with more detail, past an even coat/ombré. Note that these cream polishes are unique and do NOT act like a standard gel polish—they go on thick and smooth out to be less opaque, so for a colour that looks 'solid' to match the shade as it appears in the set, I'll say probably about 3 even coats is the sweet spot. It takes some finesse to keep entirely even, so beginners keep in mind that u might use some product practising how to use these to ur preference if ur not familiar. I personally enjoy the translucent effect immensely—particularly for a sheer look on top of polygel, or for a 'jelly' effect when mixed with a top coat. So, if trying to get a very vivid/opaque colour, maybe start with a base of a classic gel polish, or use coloured polygels to base! The glitter creams are some of the most striking now that I've used most of the colours, as the particles are fine with a nice homogeneous application. I am unsure how more bright or dark sets apply, but I am curious enough now & will surely have to compare with a future order. Overall, I recommend these for anyone who likes a soft looking pastel effect, & those trying to experiment with different levels of pigment or more subtle alterations to however u might typically finish ur mani! (Picture is my first smooth blend w/ this palette, the lavender and warm beige mixed w/ some of the purple glitter, topcoat glitter is a separate polish. Excuse rough edges, just practice.)
Fabulous shades!
The colors glide on smoothly and are easy to mix to create new shades or nail art. Very satisfied.
Love it!
The package is so nice, the colors are very pretty and I love how easy is to get your nails done!
So I'm in the middle of removing my previous maniI was gonna just repair and repaint but I have new tips and duelforms coming so I'm just gonna go ahead and remove these but just got this little pallette I order so of course I had to try it out I did 4 thin layers of the corner blue as you can see and topped it with a matte top coat it. I am removing it but I just wanted to test it out and I love the way it applys and if your nails were buffed and even you would have no issues with evenness in the color but mines not so you'll see sheerer spots and little pooling where my polygel ended. If I use this with my new tips or new duelforms I'll add more photos
Love the colors. Easy to use. All colors perfect shades. Only thing was the brush was not a very good one left too many streaks so had to use a different brush. Consistency was perfect.
Definitely great new way of gel polish . I like it.If you going to try this product make sure you apply it differently than classic gel polish.I apply it more like hard builder gel than gel polish. If you press too hard will be creating strokes
First time trying gel polishes in this format. Requires practice but to be the first time, came out decent. The pink set is very pigmented and the jelly colorful one is really cute and fun. I've had them for a week and has not chipped. Read the reviews before ordering, so I was aware they are small but did my hands & toes and both my nieces and have plenty left.
We thank you for choosing MODELONES. To express our gratitude, we introduce to you our exclusive offer:▪ SUPPORT AFTERPAY PAYMENT METHOD
Shop now. Pay later. | Always interest-free. Your purchase will be split into 4 payments, payable every 2 weeks
▪ 15% OFF FOR ALL NEW CUSTOMERS
Who doesn't enjoy getting discounts? Sign up and get 15% off your first order sitewide and get the latest and hottest scoop on our amazing offers
▪ EXCLUSIVE FREE GIFTS
Get a FREE GIFT for every order that meets the required amount
▪ VIP MEMBER BENEFITS
Exclusive MODELONES Prime Day Discount On The 5th of Every Month (Go to event page)
▪ FREE SHIPPING & WORLDWIDE SHIPPING
Free shipping for all orders $45+ USD
▪ 30 DAYS RETURN AND REFUND POLICY
If you are not satisfied with a product purchased from

https://modelones.com

, we will gladly accept a return within 30 days of receipt (excluded opened products).
Modelones is a nail art brand for all mani-artists who seek stylish nail design and self-expression. As an industry-leading producer of gel nail polish, Modelones team always runs at the forefront of nail fashion and innovates our formulas, aiming to inspire confidence and courage in mani-artists through the power of color.At Modelones, our professional team of designers explores the playful world of color, bringing high-standard dipping powder, poly gel, and acrylic powder into our collections to fulfill your own beauty attitude.In the end, we hope that Modelones becomes the destination for like-minded mani-artists to gather and connect, dispersing the energy of color into more people's life. The power of color will defeat the dullness of life. Break free and shine bright with Modelones!